Ducati World is the World's First Motorcycle-Themed Amusement Park, and it Includes a Panigale V4 Simulation Ride
Remember when a partnership between Ducati and Italian theme park Mirabilandia was announced last November? After months of planning, the first step has finally been made to allow to project to come into fruition.
This comes in the form of the official layer of the first stone inside the famous Italian amusement park. The opening of the building site was reported to have been attended by the management of Mirabilandia, CEO of Ducati Claudio Domenicali, and MotoGP and SBK flag bearers Andrea Dovizioso and Marco Melandri. The two motorcycling champions both hail from the area as well, which makes the Ducati World project even more exciting for them.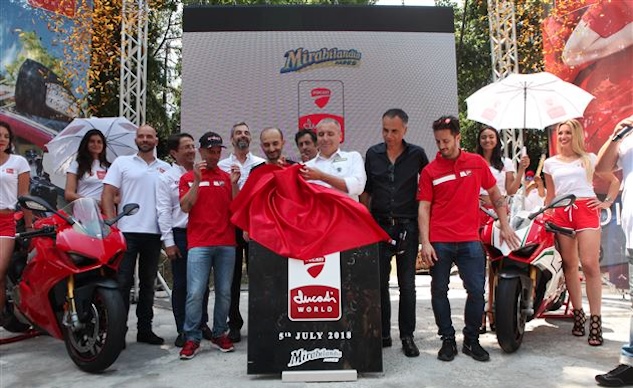 Photo Credits: Motorcycle .com
Ducati World will be located inside Mirabilandia, and will occupy about 35,000 m2. This will be the first themed area in the world to be inspired by a motorcycle brand.
But having a theme park solely dedicated to motorcycles (albeit only of the Ducati kind) is not the exciting part.
Let's talk about the rides.
A racing-inspired interactive roller coaster is slated to be one of the main attractions at Ducati World. Meant to simulate a ride on the Panigale V4, this stunning attraction aims to transform passengers into real riders.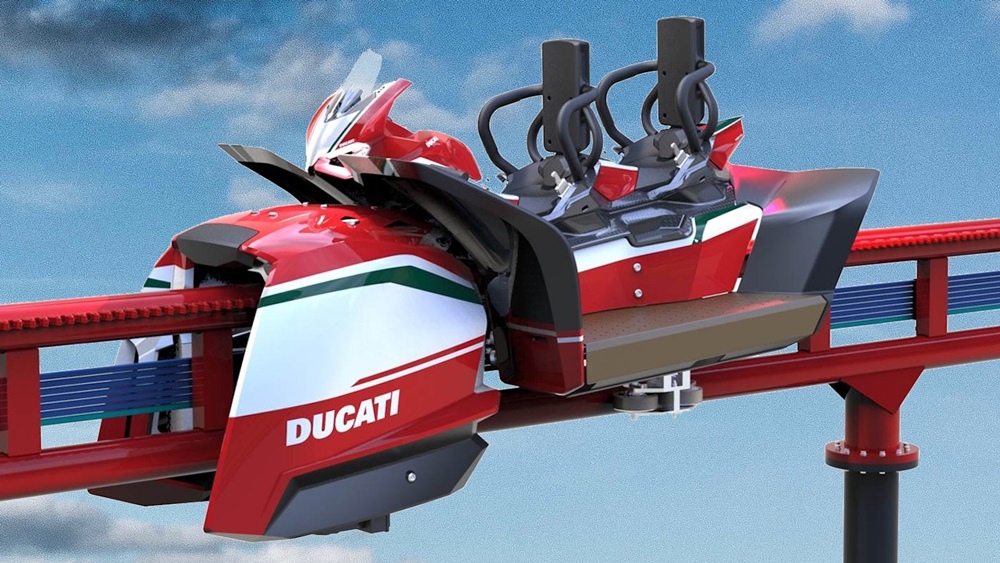 Photo Credits: Top Speed
According to the press release, the Panigale V4 ride will see passengers being able to "control vehicle acceleration and braking, making every run an authentic head-to-head between bikes roaring along parallel rails."
The area will also apparently have a facility entirely dedicated to the Ducati Experience, which means visitors can expect "latest-generation ride simulators, unprecedented family attractions and a Ducati Shop offering apparel and accessories."
Of course, what is a theme park without food and beverages? Three Ducati and Ducati Scrambler-themed refreshment areas will be developed as well.

Photo Credits: Bikes Republic
CEO of Ducati Claudio Domenicali said: "Thanks to the partnership with Mirabilandia, Italy's biggest amusement park, Ducati World will be able to provide a truly thrilling experience, with interactive motorcycling-themed attractions for adults and children alike."
"Our company has always been about passion and engagement and aims to offer Ducati enthusiasts a system that goes far beyond the experience of riding the motorcycle. Ducati World, then, fits this vision perfectly. It also tightens our bond with this incredible territory, which has forged champions and fostered an unrivalled passion for speed".
General manager of Mirabilandia Riccardo Marcante also believes that the decision to join forces with Ducati is a good one, as the beloved motorcycle brand is renowned worldwide and will be able to appeal to many motorcycle and motor racing fans as well.
Ducati World is slated to open in 2019.
Rd 2, 18 Mar 2020
COE Bidding of Motorcycles