Triumph Scrambler 400 X: Where Style Meets Adventure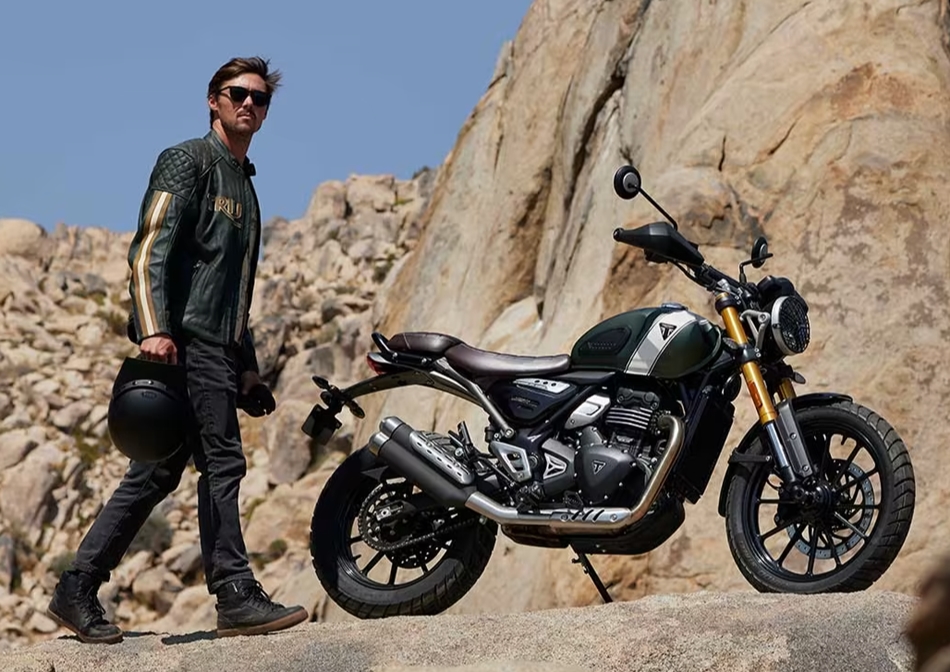 Embodying the spirit of exploration and designed to conquer urban streets and off-road trails, the 2024 Triumph Scrambler 400 X is a testament to Triumph's commitment to timeless design, advanced engineering, and uncompromising performance.
With its rugged charm, iconic silhouette, and modern technology, the Scrambler 400 X offers a seamless blend of classic appeal and cutting-edge capability. As a companion to the Triumph Speed 400, the Scrambler 400 X is Triumph's latest venture into the sub-500cc segment, catering to class 2A riders in Singapore, and it's set to redefine the boundaries of adventure motorcycling.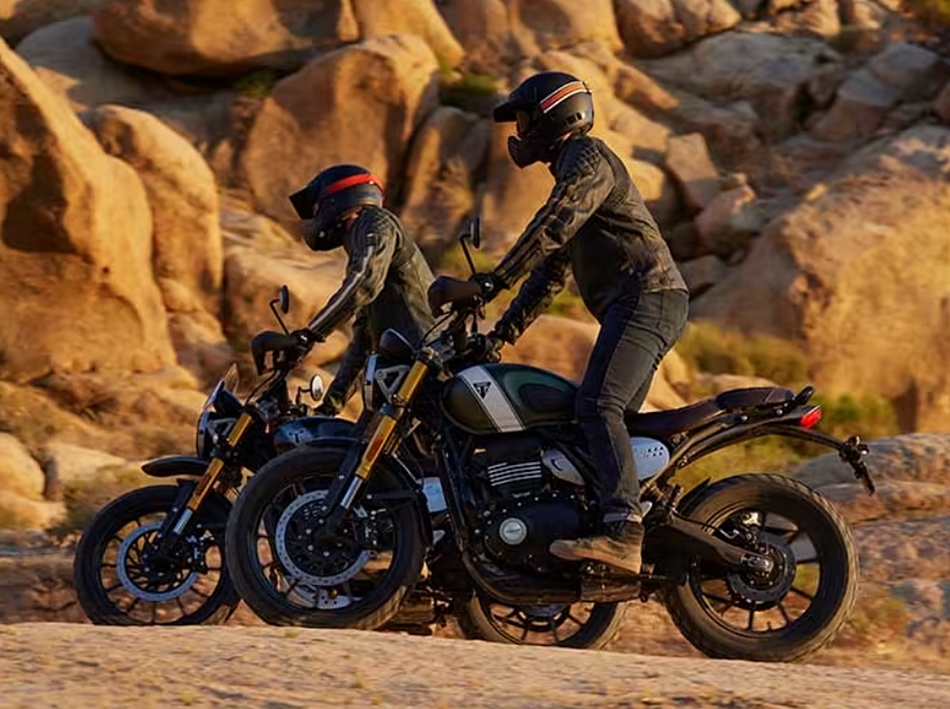 Access Anywhere: Embrace the Journey
The Scrambler 400 X is versatile, designed to tackle any terrain with poise and grace. Whether cruising through city streets or venturing off the beaten path, the Scrambler 400 X promises a thrilling ride that knows no bounds.
Its beautifully balanced and agile demeanor ensures that riders of all skill levels can confidently navigate various conditions, making every ride an unforgettable adventure.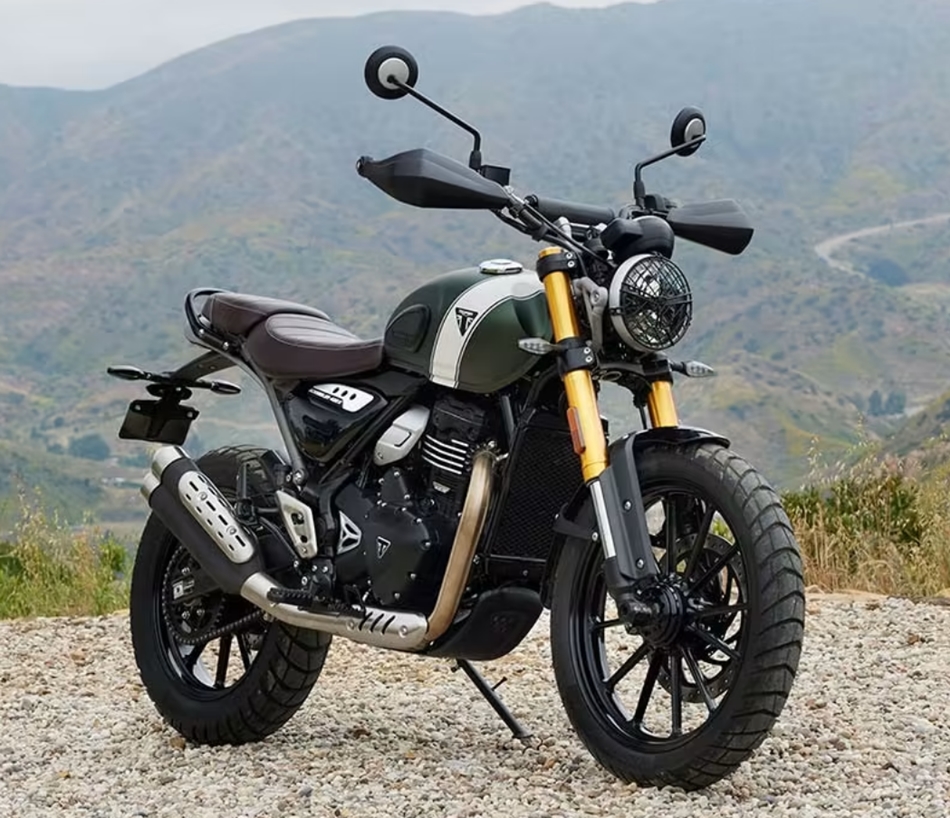 Authentic Scrambler Attitude: Classic Design, Modern Execution
From the ground up, the Scrambler 400 X proudly displays its authentic Scrambler DNA. With purposeful all-road stance, a timeless Scrambler silhouette, and the classic Triumph engine profile, it's impossible to mistake the Scrambler 400 X for anything other than an authentic scrambler.
The design pays homage to the legacy of Scrambler motorcycles while incorporating modern touches that enhance both style and functionality.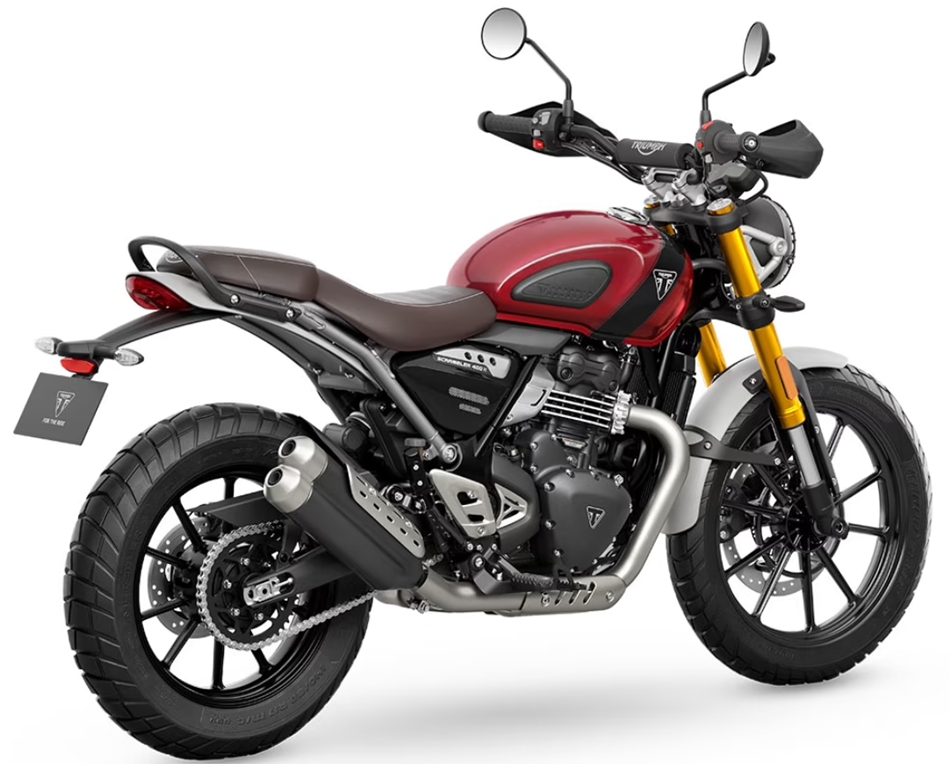 Finish and Detailing: Craftsmanship in Every Detail
Triumph's dedication to detail is evident in every inch of the Scrambler 400 X. The motorcycle features trademark black powder-coated engine casings, robust gold anodized forks, and high-quality paintwork.
The meticulous logo detailing is a testament to the premium craftsmanship that defines the Triumph brand. With attention to even the smallest elements, the Scrambler 400 X exudes a sense of sophistication that resonates with riders seeking excellence.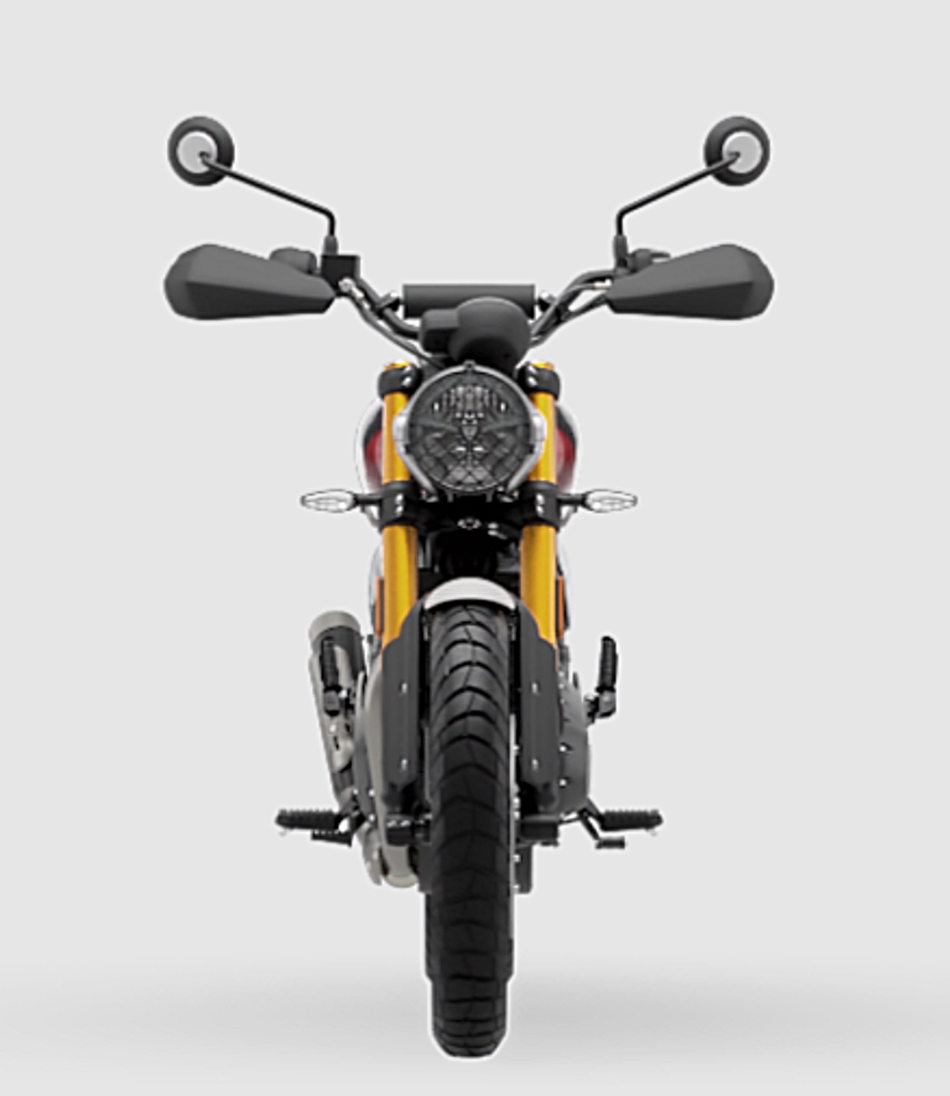 All-Road Capability: Ready for Any Adventure
The Scrambler 400 X is equipped to handle the challenges of diverse terrains. Features such as the longer Scrambler mudguard, sump protection, headlight guard, radiator protection, and handguards collectively contribute to its all-road attitude.
These features provide enhanced protection for both the motorcycle and the rider and underscore the Scrambler 400 X's versatility and capability.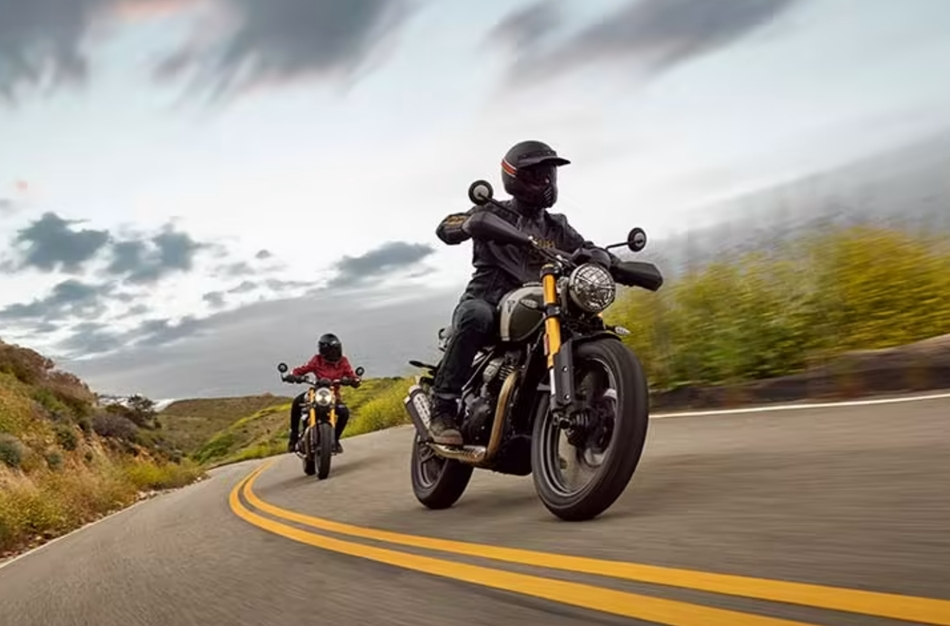 Rider Ergonomics: Commanding Control, On and Off-Road
Comfort and control are vital components of the Scrambler 400 X's design. The motorcycle offers a commanding riding position with wide adjustable handlebars and flat high-grip foot pegs. This ergonomic layout ensures comfort during long rides and offers excellent off-road control, allowing riders to conquer various terrains confidently.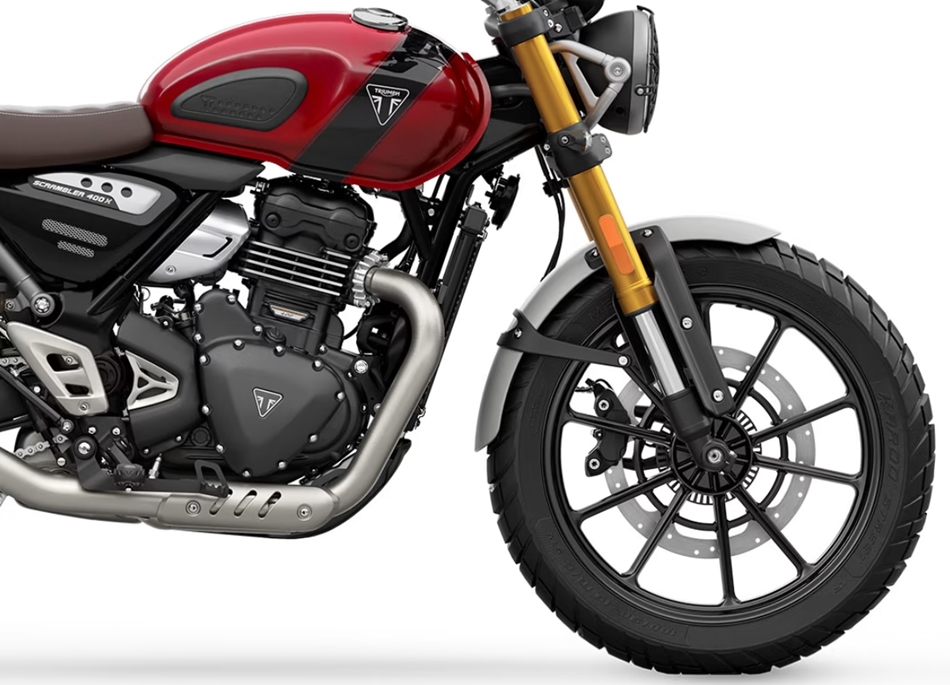 Chassis and Suspension: Agility Meets Assurance
The Scrambler 400 X's dedicated chassis and suspension setup guarantee an agile and assured ride on all surfaces. The motorcycle offers precise handling with its 43mm big-piston upside-down forks and adjustable rear mono-shock, adapting to any condition.
The carefully calibrated suspension system ensures comfort and responsiveness, whether navigating city streets or venturing into the wild.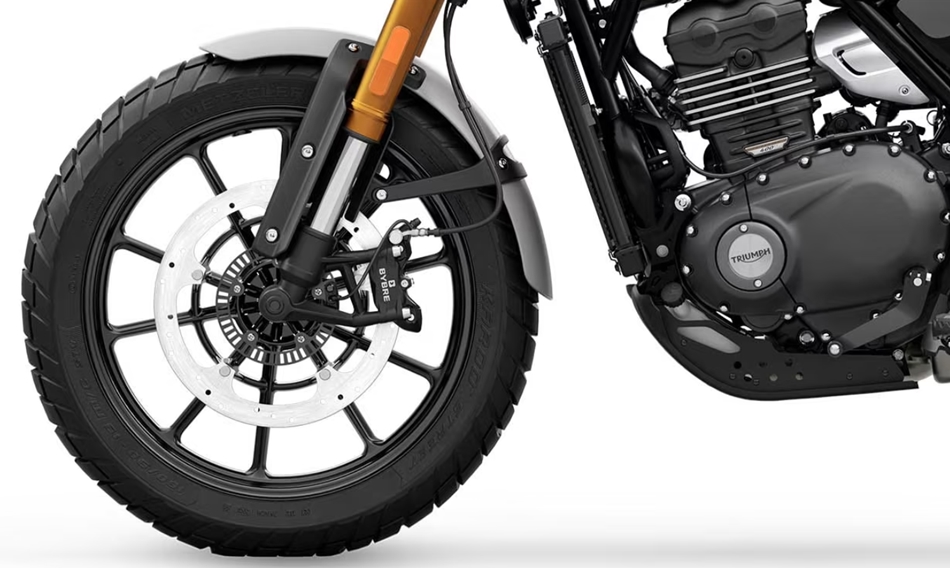 Brakes, Wheels and Tires: Confidence on Every Surface
The Scrambler 400 X features Scrambler-specific lightweight V-spoke design cast aluminium wheels. The motorcycle's 19-inch front wheel and 17-inch rear wheel, equipped with high-quality tires, provide exceptional road grip and stability. This wheel and tire combination delivers optimal traction and stability, ensuring your adventures are not limited by the surface you ride on.
The braking system is designed for precision and safety. The twin-piston radial caliper is accompanied by braided lines, offering powerful and progressive braking performance. The switchable Bosch ABS technology enhances control and feel, allowing riders to easily navigate diverse environments.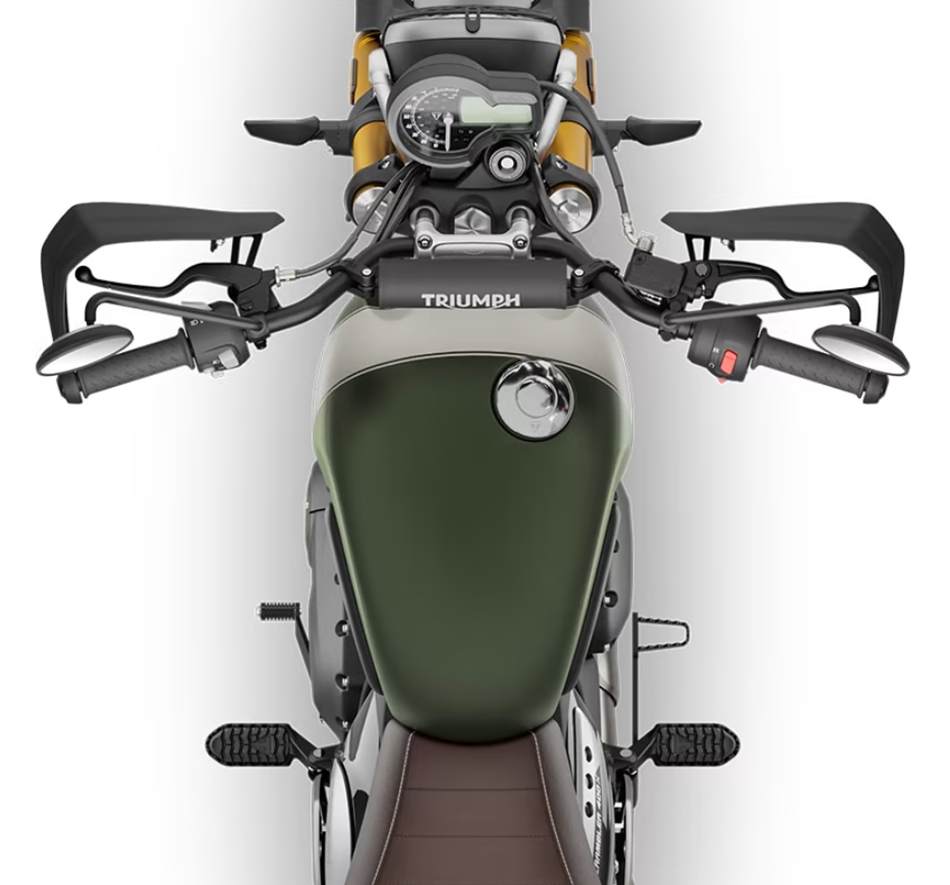 Modern Rider Technology: Innovation Meets Tradition
The Scrambler 400 X seamlessly blends modern rider technology with its classic design. The stylish instruments feature a classic speedometer and a full-featured LCD, ensuring riders have essential information at their fingertips. The switchable traction control adds an extra layer of safety and control, enhancing the motorcycle's off-road capabilities.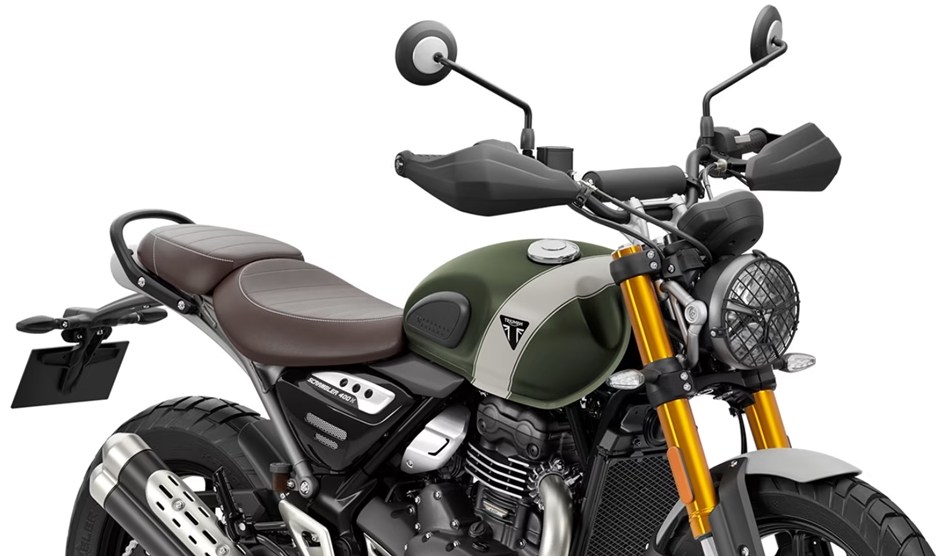 Security: Protection for Your Journey
Ensuring the security of your adventure, the Scrambler 400 X comes equipped with a steering lock and an anti-theft immobilizer as standard. An integrated security chip in the ignition essential guarantees that only the rightful owner can start the engine, providing peace of mind during stops and overnight stays.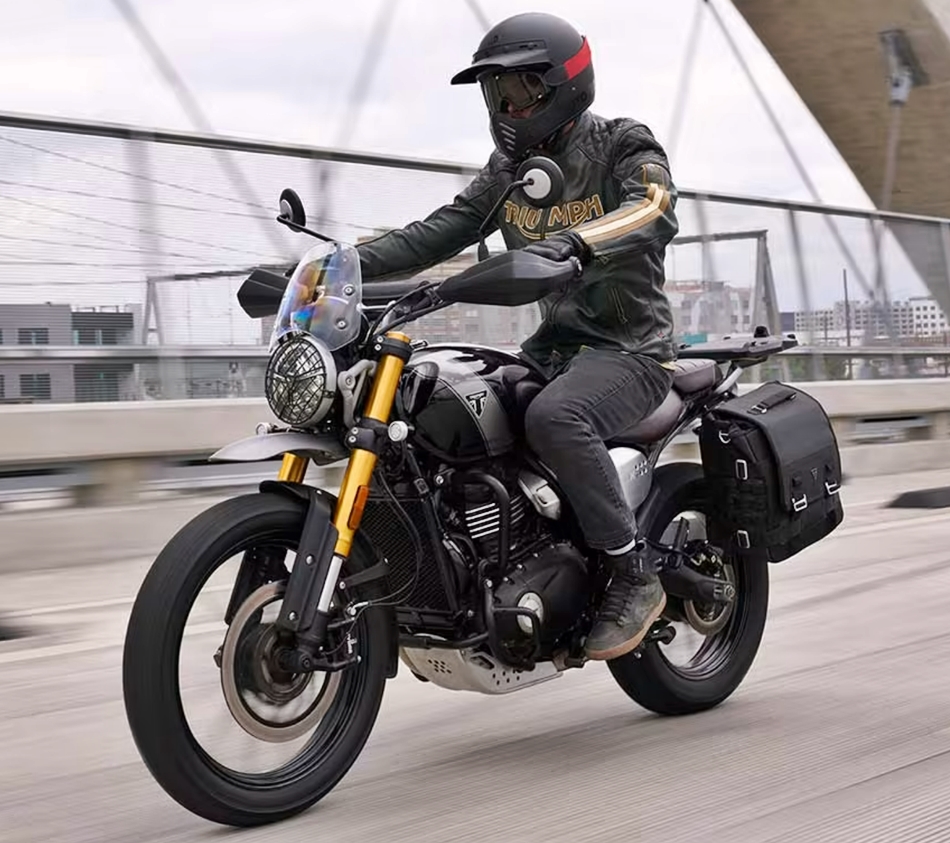 Iconic Adventure Awaits
The Triumph Scrambler 400 X is a testament to Triumph's legacy of creating iconic motorcycles that inspire riders to explore the world with style and confidence. From its all-road capability to its meticulously designed features, the Scrambler 400 X brings a fresh sense of adventure to Triumph's revered Scrambler lineup.
Crafted with care, infused with technology, and designed for exploration, the Scrambler 400 X is an invitation to embark on new journeys and create unforgettable memories on two wheels. Triumph's commitment to excellence shines through every aspect of this extraordinary motorcycle, allowing riders to experience the world in an entirely new way.