Introducing the 2024 Yamaha MT-09: Unleash the Power of Yamaha's Iconic Streetbike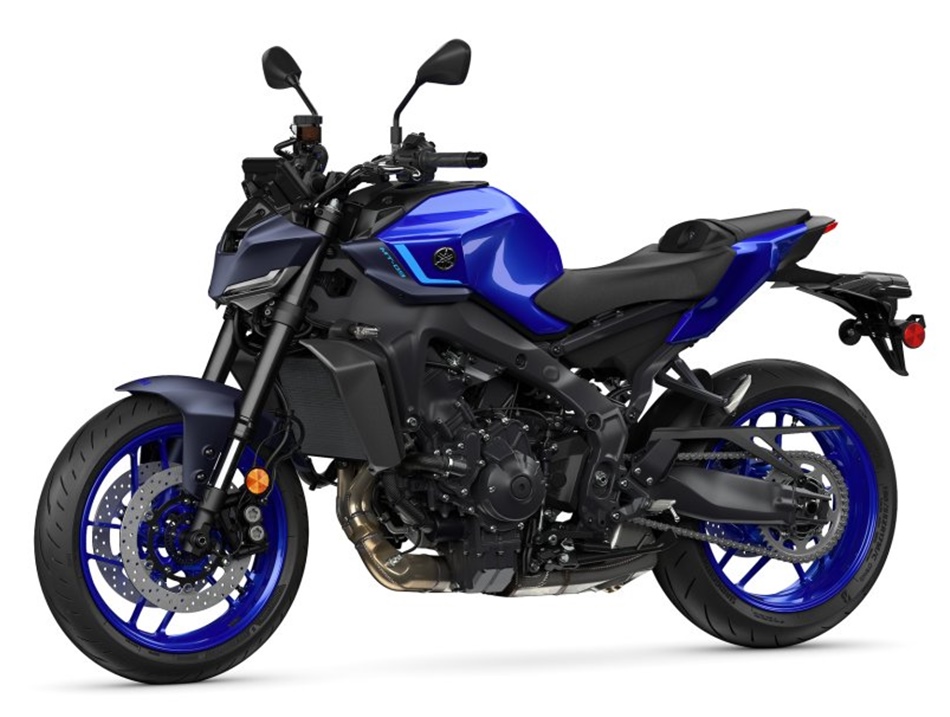 If you're looking for a powerful and stylish street bike, look no further than the 2024 Yamaha MT-09. This new model combines the thrilling performance and iconic design that Yamaha motorcycles are known for, offering riders a sensational riding experience. With its cutting-edge features and advanced technology, the Yamaha MT-09 is set to redefine the world of Class 2 motorcycles.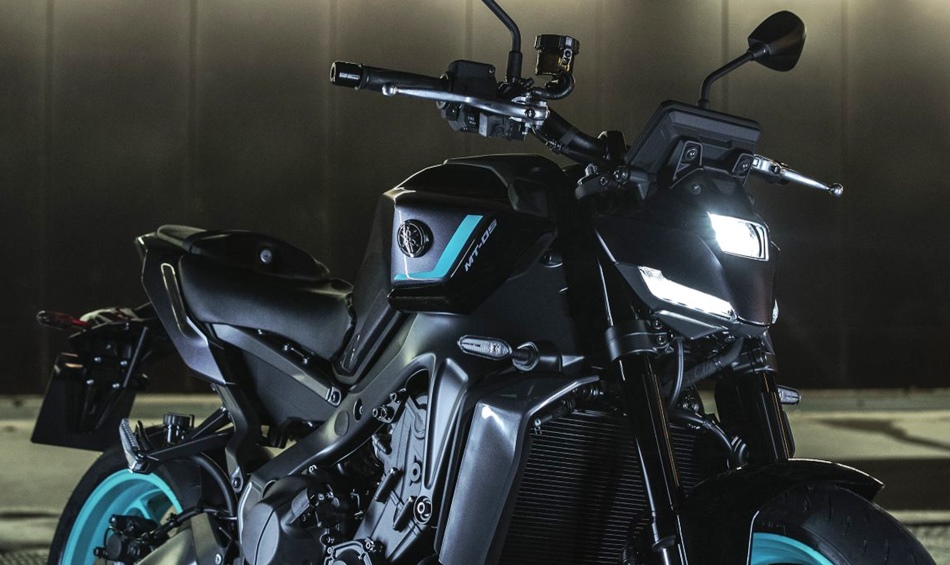 Aggressive New Hyper Naked Styling
The first thing you'll notice about the 2024 Yamaha MT-09 is its aggressive next-generation styling. With sharper, more defined lines and minimal bodywork, this hyper-naked street bike exudes a bold and modern look. The new bi-functional LED headlamp, now shrouded in a sleek cover, blends seamlessly with the redesigned fuel tank and tail section. The lowered fuel tank not only enhances aesthetics but also provides a more forward-leaning stance, perfectly aligning with the edgy street aesthetic that the MT series is renowned for.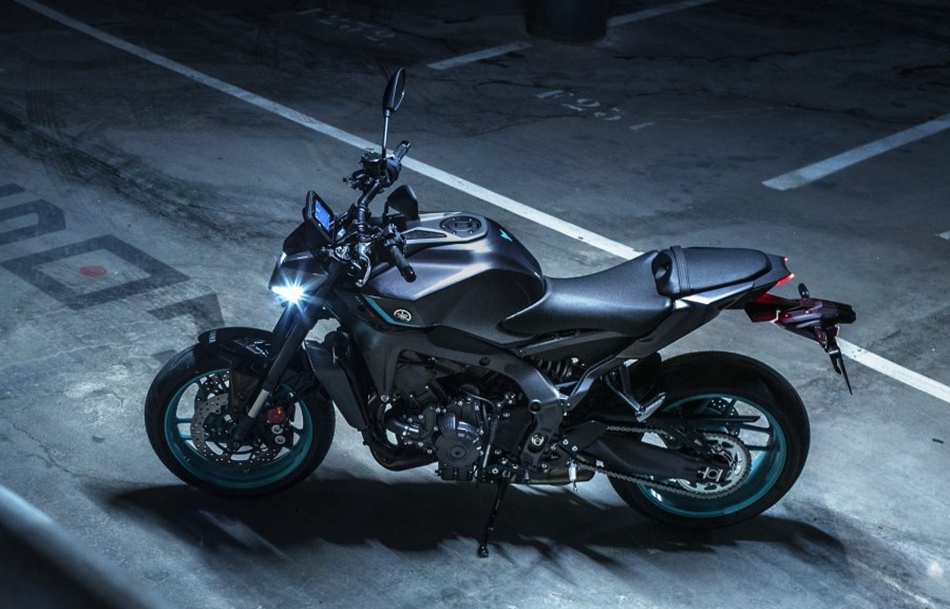 More Engaged Ergonomics
Yamaha has further improved the ergonomics of the 2024 MT-09 to ensure riders feel more connected with the machine. The handlebar position is now lower and adjustable, offering two customizable settings. The redesigned footrests are slightly more rearward and adjustable, enhancing the riding position and maneuverability. The new two-part seat design is slimmer, providing greater freedom of movement and making it easier to reach the ground. These enhancements result in a more engaging and comfortable riding experience.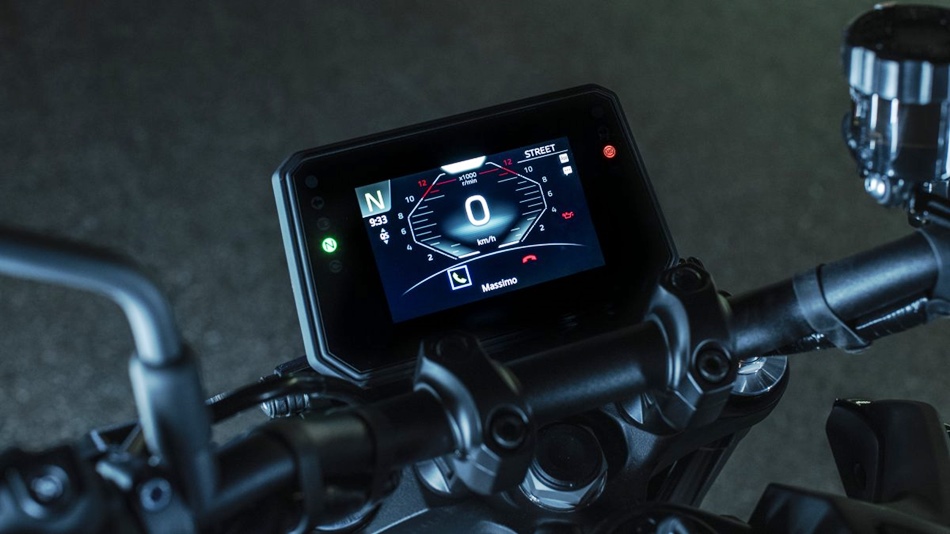 New Five-Inch Full-Color TFT Display with Updated Switchgear
Stay connected and informed with the new five-inch full-color TFT display on the 2024 MT-09. With four different themes, you can customize the display to suit your riding style or preferences. The integrated handlebar switches have been refined for intuitive operation, ensuring easy access to essential information on the road.
New Cruise Control & Turn Signal Functions
The 2024 MT-09 has a new cruise control system, allowing you to set your desired speed and quickly adjust. The turn signal functions have also been enhanced, offering a more intuitive and convenient experience. They flash three times with a soft click of the indicator switch and self-cancel after 15 seconds or once you've travelled more than 500 feet.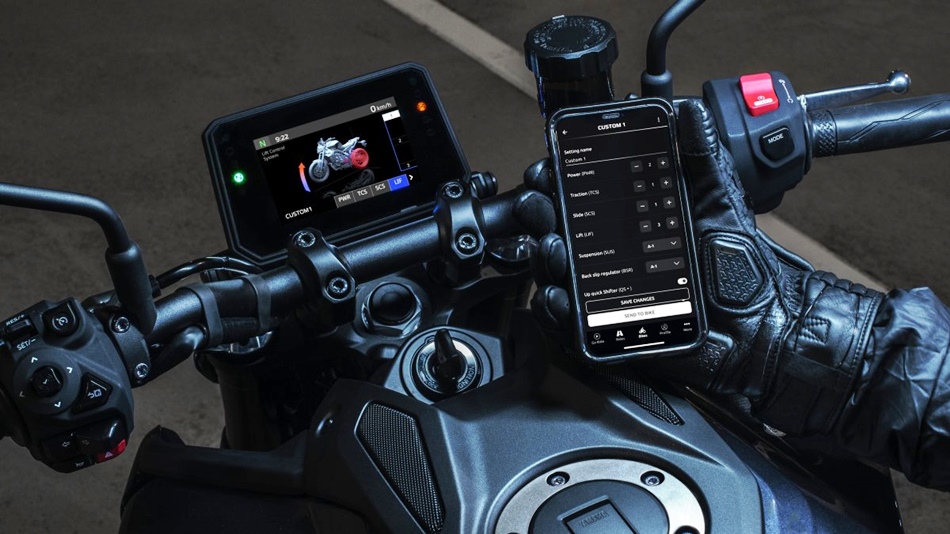 New Smartphone Connectivity
Yamaha has embraced the future of motorcycling with smartphone connectivity. Using the Y-Connect app, you can link your smartphone to the TFT display. This feature allows you to receive message notifications, take calls, and even listen to music (with an aftermarket Bluetooth® headset). Additionally, the full turn-by-turn navigation functionality through the Garmin® StreetCross app makes every journey more accessible and enjoyable.
Customizable YRC Ride Modes
Yamaha Ride Control (YRC) empowers you to customize your riding experience. You can select engine power characteristics and electronic intervention levels to match specific conditions or personal preferences. The MT-09 offers three integrated riding modes, including SPORT, STREET, and RAIN, with factory settings to suit different situations. Moreover, you can create two custom programs tailored to your preferences directly on the dashboard menu or via the Y-Connect app.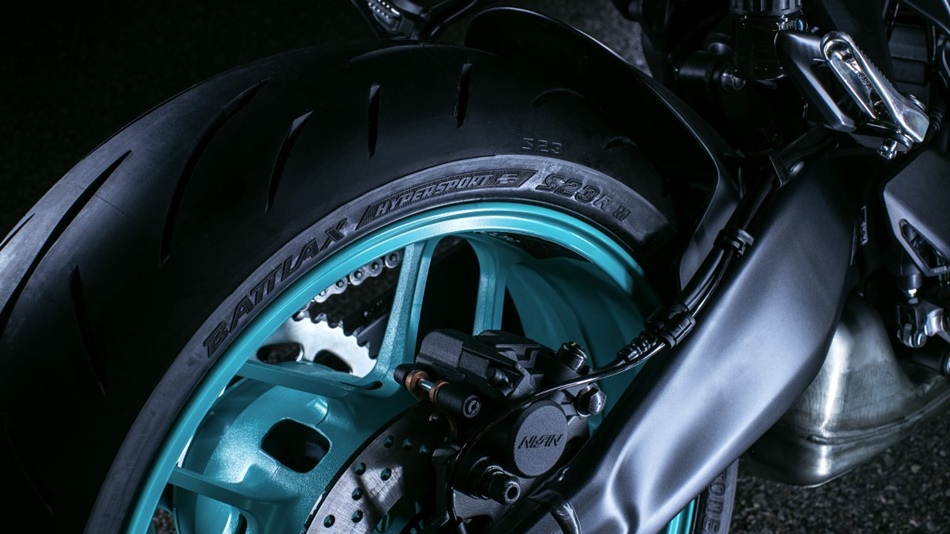 New Back Slip Regulator (BSR)
The 2024 MT-09 introduces a Back Slip Regulator (BSR) to enhance your riding experience. This system reduces rear wheel lockup during engine braking by controlling the torque supplied to the wheel. It's especially beneficial in low-grip situations and other scenarios where the slipper clutch might struggle to perform optimally.
Revised Suspension & Latest Generation Tires
To ensure a smooth ride at various speeds, the 2024 MT-09 features higher spring rates and updated damping characteristics. The suspension is tuned to match the new standard fitment Bridgestone Battlax Hypersport S23 tires. Additionally, the shock linkage settings are optimized to improve chassis attitude and weight distribution when cornering.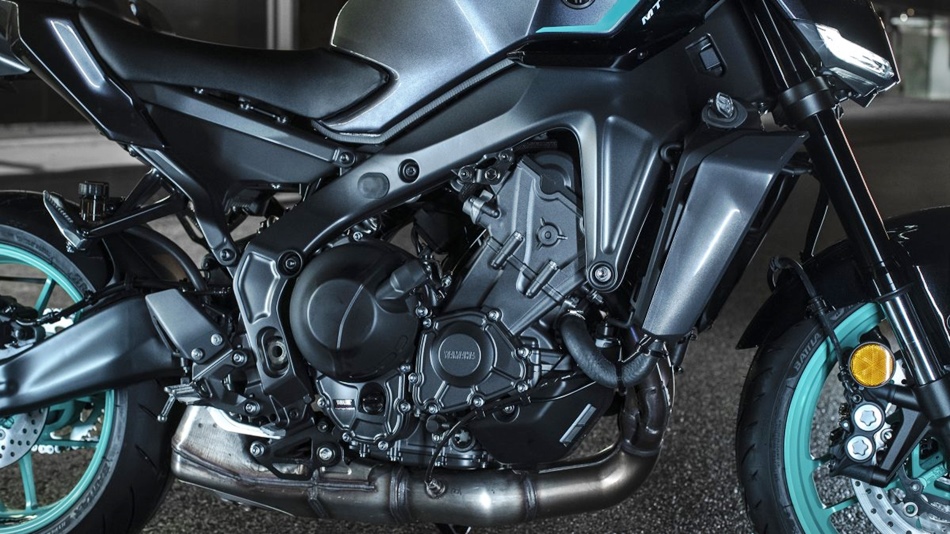 Acoustic Amplifier Grilles for Enhanced Intake Sound
One of the defining features of the MT-09 is its distinctive cross-plane Triple powerplant's roar. The 2024 MT-09 features a new two-duct intake design with Acoustic Amplifier Grilles on top of the fuel tank. These grilles accentuate high-frequency induction sounds, delivering the CP3 engine's thrilling note directly to the rider for an enhanced sensation of torque and acceleration.
New Brembo Radial Master Cylinder
Stopping power is essential, and the 2024 MT-09 is equipped with a new Brembo radial master cylinder. This system delivers a linear pressure supply to the four-piston calipers, ensuring outstanding braking performance with fingertip control.
New Third-Generation Quickshifter
Yamaha has equipped the 2024 MT-09 with its third-generation Quick Shift System (QSS). This system enables quick, clutchless upshifts and downshifts under both acceleration and deceleration. With two settings, you can choose the one that suits your riding style, enhancing acceleration and smooth gear changes.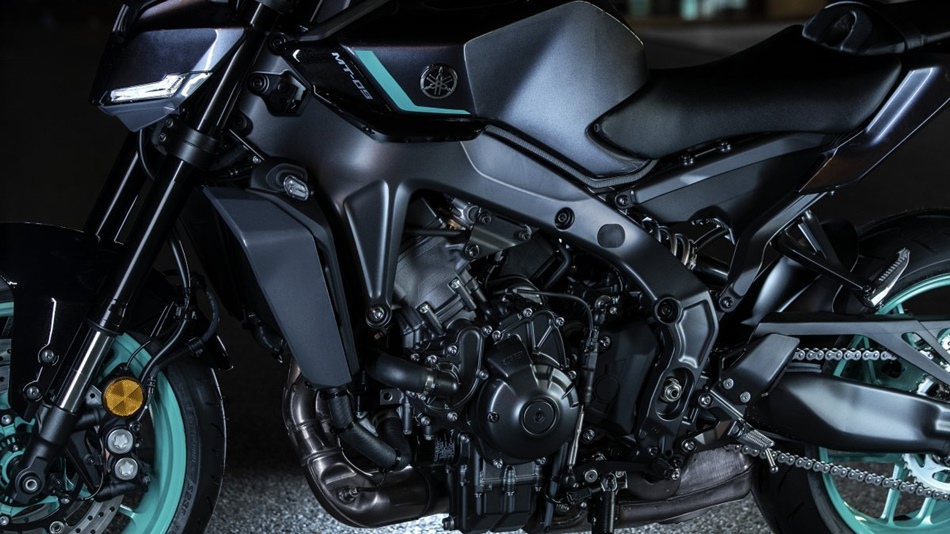 Powerful 890cc Three-Cylinder Engine
At the heart of the 2024 Yamaha MT-09 is the powerful 890cc liquid-cooled CP3 engine. Equipped with the Yamaha Chip Controlled Throttle (YCC-T) system, this engine provides precise control of throttle valves and is known for its thrilling wave of torque from low rpm.
Lightweight CF Die-Cast Aluminum Frame
The lightweight aluminium frame of the MT-09 offers the perfect balance between straight-line stability and agile handling. Yamaha's controlled fill (CF) die-casting technology contributes to the frame's lightweight, ensuring you can enjoy the best of both worlds.
Advanced Six-Axis IMU
The MT-09 comes with an advanced six-axis Inertial Measurement Unit (IMU), matching the performance of the YZF-R1 Superbike. It provides a range of rider aids, including a Traction Control System (TCS), Slide Control System (SCS), Lift Control System (LIF), and Brake Control System (BC), all of which can be customized to your liking.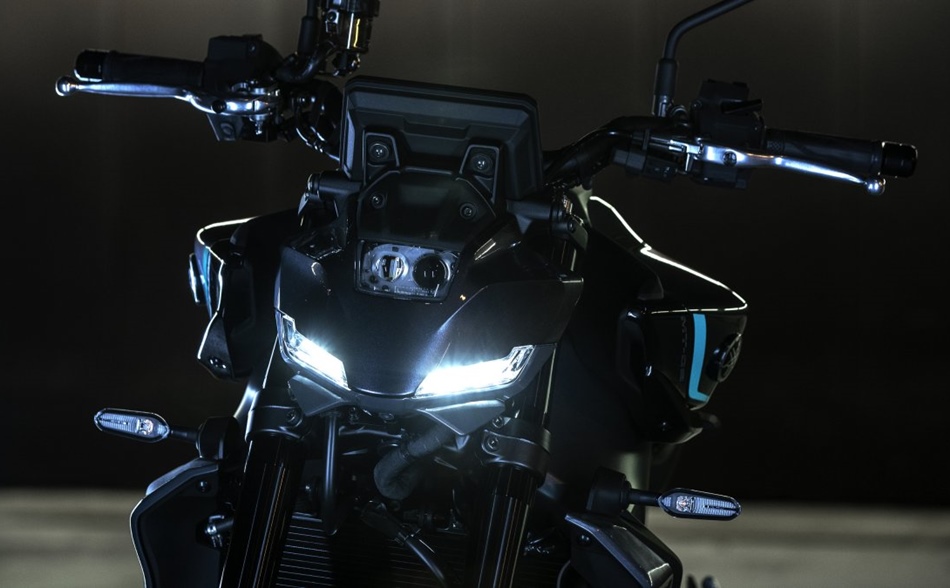 Full LED Lighting
The 2024 MT-09 boasts full LED lighting, including a redesigned LED taillight and turn signals. This not only enhances visibility but also adds to the bike's modern and aggressive look.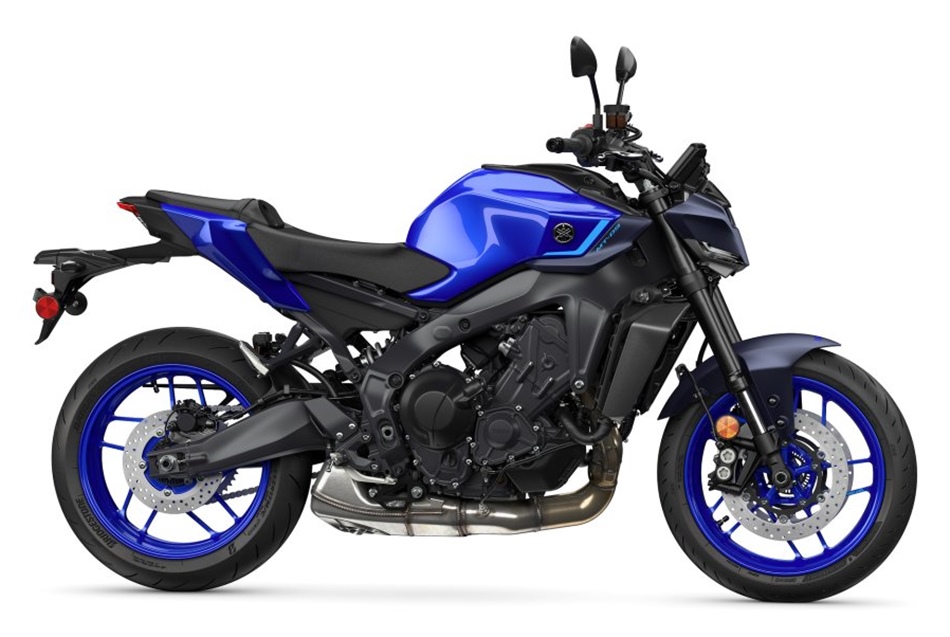 In conclusion, the 2024 Yamaha MT-09 is a street bike that redefines the riding experience. With its powerful engine, advanced technology, and customizable features, it's a motorcycle that caters to both the performance enthusiast and the tech-savvy rider. Don't miss out on the opportunity to own a piece of Yamaha's legacy with this remarkable Class 2 motorcycle. Ride the future with the 2024 Yamaha MT-09 and experience the thrill of the open road like never before.