New Bikes for sale by United Cycles LLP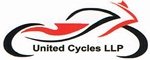 Operating Hours
(Mon - Fri) 10 am to 7:30 pm (Sat) 10 am to 6 pm
Type : Street Bikes
Engine Capacity: 399
Class : 2A
As one of the most famous naked bikes in the motorcycling world, the Honda CB400 Super Four is a model so well known even non-enthusiasts could identify it with east. First laun...
Honda CB400 Super 4 Revo
More Details
Type : Sport Tourers
Engine Capacity: 745
Class : 2
The new NC750X is an ideal example of what we do best: use creativity and latest technology to create a bike for the way people like to ride. It is great for commuting on week...
Honda NC750XA
More Details
Type : Scooters
Engine Capacity: 550
Class : 2
AK 550 is the new standard for integration of a motorcycle premium designs with a scooter, especially with its meticulous attention to detail. From the multi-textured surfaces a...
Kymco AK550
More Details
Rd 2, 22 Jul 2021
COE Bidding of Motorcycles