New Bikes for sale by Wing Fuat Pte Ltd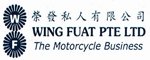 Operating Hours
(Mon - Sat) 9am to 6pm
Type : Street Bikes
Engine Capacity: 149
Class : 2B
New 2019 CB150R Streetster
Honda CB150R Streetster
More Details
Type : Scooters
Engine Capacity: 279
Class : 2A
Its liquid cooled, 4-valve engine provides powerful acceleration with tank range of 298 miles and smooth speed, along with effortless, responsive performance for both in-city co...
Honda Forza 300
More Details
Type : Sport Tourers
Engine Capacity: 745
Class : 2
The new NC750X is an ideal example of what we do best: use creativity and latest technology to create a bike for the way people like to ride. It is great for commuting on week...
Honda NC750XA
More Details
Type : Cubs
Engine Capacity: 149
Class : 2B
Ride royal with power in each throttle on Yamaha Mxi T150 Sniper. Quench your thirst for speed with a high of the category motorbike that exhibits immeasurable acceleration; ma...
Yamaha MXi T150 Sniper
More Details
Rd 1, 05 May 2021
COE Bidding of Motorcycles