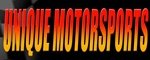 Address
11 Tannery Lane S(347774)
Operating Hours
(Mon - Sat) 10am to 8pm
Details
Unique Motorsports Pte Ltd was establish in the year of 2006, Our team passion for motorcycles drove us to start Unique Motor to cater for all motorcycle enthusiasts!
Our company not only focus on motorcycle repairs and maintenance but we have a wide range of accessories and top-end upgrades parts for motorcycles
Most of the accessories are imported from the states, europe. We select our products based on the quality and durable and safety features needed in the parts when enhancement is concern.
Majority of our motorshops have an accessories showroom with a comfortable and cosy air -conditioned lounge for all our customers to enjoy while reading the latest news in motorcycles. There is also a wall-mounted LCD TV for our customers to enjoy the motorbike racing. Dedicated to customers only
Our team make sure that our staffs are the top notch to service our customer request and problems. We ensure that we continue to uphold our company reputation on giving all bikers excellent service and they will always be satisfy as we fulfill their needs.
Rd 2, 20 Sep 2023
COE Bidding of Motorcycles