Sin Boon Motor Co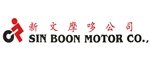 Address
Operating Hours
(Mon - Fri) 9 am to 7 pm (Sat) 9 am to 6 pm
Sin Boon Motor Co. is one of the largest motorcycle specialist in Singapore,well known in the local and expat motorcycle community.
We have many years experience in Singapore motorcycle industry,
We are good repute for servicing and repairs in this motorcycle community.
Our reputation exceeds to all brands of motorcycles. From all Japanese motorcycle like, Kawasaki, Yamaha, Suzuki and Honda to Vespa Scooter.
If your motorcycle encounter any issue, we can rectify it on the spot! To complement our servicing and repairs, we also sell brand new motorbikes (Honda, Suzki, Kawasaki, Yamaha, ducati, bmw) and quality used motorbikes.
Rd 2, 22 Nov 2023
COE Bidding of Motorcycles