BMW Develops Unique M Endurance Chain That Requires No Maintenance Even In The Worst Situations Thanks To Tetrahedrally Amorphous Carbon
BMW develops unique M Endurance chain that requires no maintenance even in the worst situations thanks to tetrahedrally amorphous carbon (ta-C) and a few tricks you need to know about.

One of the most prominent bike maintenance procedures is related to the chain. Bikers have to lubricate it, keep it clean and eventually replace it. Those who do not maintain their chain will have to replace it sooner.
Chains for sports bikes are expensive. They must handle up to 220 HP, and they must stay strong at speeds of up to 300 km/h! It is an essential part of a bike that deserves a lot of attention. Now, there is a new type of chain.
M Endurance is finally available. It is a particular type of chain that requires no maintenance. BMW developed this version for its premium bikes that offer immense power ratings, incredible capabilities, etc.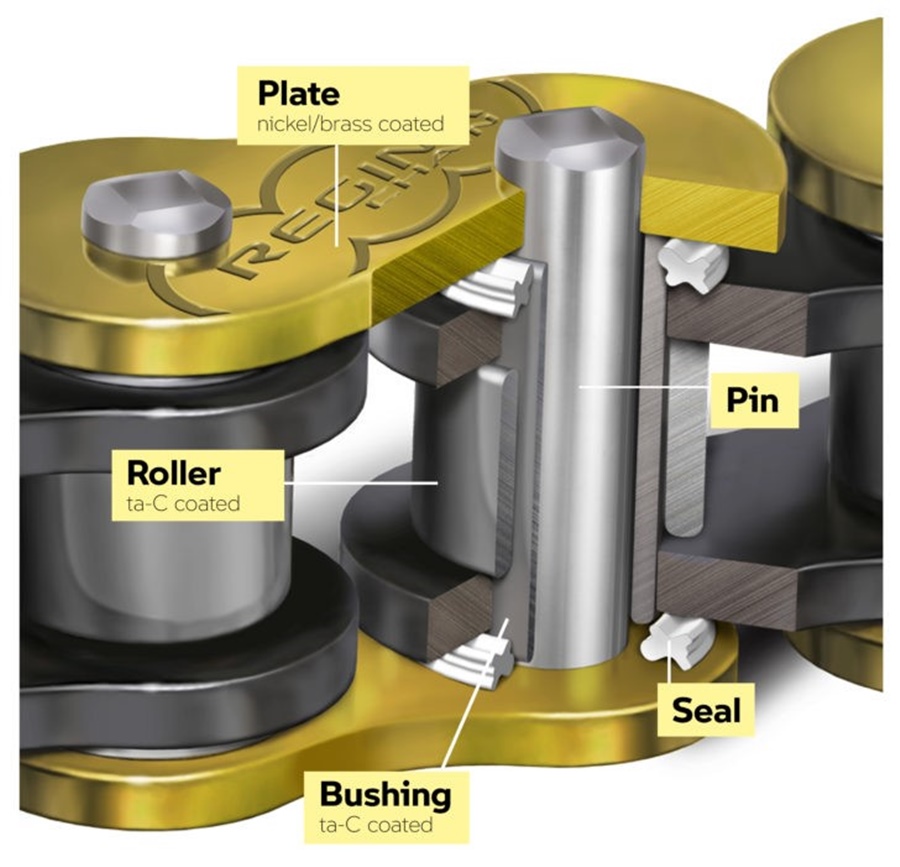 The reinvention of how the chain is a surprise factor. There were no press releases, news, or anything. BMW just revealed the development and provided a few facts.
M Endurance is similar to X-ring chains.
The secret here is built-in lubrication! A while back, we had X ring chains. They had lubrication between the pins and rollers.
M Endurance works in the same way. The lubrication eliminates friction. Riders no longer need to lubricate chains externally. There is no need to adjust tension either. Chains will keep their length, and therefore changing the tension won't be required.
Of course, you are wondering how rollers can withstand the friction. The secret is in the coating. BMW uses tetrahedrally amorphous carbon or ta-C to coat the rollers or better known as the industrial diamond coating.
Tetrahedrally amorphous carbon is tough and can only be compared with actual or pure diamonds and diamond-like carbon. It is more challenging than anything else we can see or touch.
Here we can see two additional benefits. The coating won't wear out. It will decrease the coefficient of friction. In other terms, it means that the layer will stay on the chain forever and that friction will be much lower.
Supersport models are compatible with this chain.
At the moment, M Endurance chains are available for premium models from the BMW lineup. They include S1000XR and S1000RR. The chain isn't known for ''smaller models''. Keep in mind that S1000RR has 205HP, and it revs up to 14.500 RPM! It is an impressive power output and even more remarkable performance. S1000XR is a different beast with 165HP and 84 lb-ft torque at 9,250 RPMs.
However, we do know that BMW is working on additional M Endurance models. They will be available for other motorcycles from their lineup. At the moment, the price isn't available.
The final word
M Endurance is an expensive upgrade for your BMW. On the other hand, it is a wise investment. Just think of it. You don't have to wash your chain, lubricate it, and adjust the tension or anything like that.
Rd 1, 09 Sep 2020
COE Bidding of Motorcycles