A Worthy Investment: The Speed-Way Motorcycle Shelter For All Kinds of Weather Conditions!
Have you ever experienced wearing your new sneakers out in public and before you know it, one half of your friends are holding you and the other half are stepping on them? Or it starts raining out of nowhere? It's the same with whatever kind of product you just freshly bought. Even motorcycles. You want to maintain its pristine condition as long as possible even though sooner or later, they really will get dirtied and roughed up.
Your bike's new weatherproof home. Whether rain or shine or snowing, this portable garage will protect your bike anytime and anywhere. Grab yours now! It's free shipping.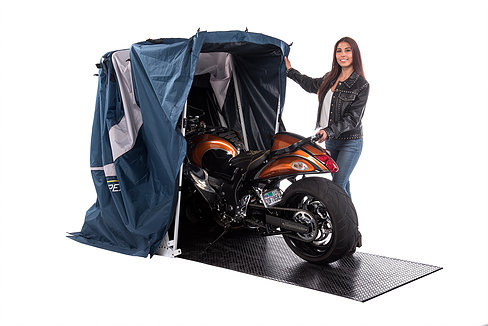 Simply pull your bike right into a Speed-Way motorcycle shelter and lower the retractable cover your bike to protect it from all types of weather.
(Image: Speed-Way Shelters)

Well, fret no more. You can finally fulfill that dream of yours of having a dry and sparkling clean bike as Speed-Way Motorsport Shelters are custom, secure, and private miniature motorsport garages with a retractable 'roll top'. Its user friendly design ensures no matter how uncoordinated you are, you'll be able to assemble this 'garage' in less than 30 minutes.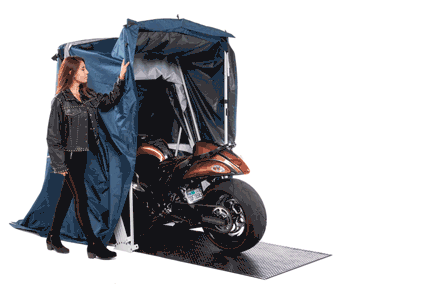 Your motorcycle's new home. No need for garages, just get the Speed-Way Motorcycle Shelter and you can park your bike anywhere and anytime.
(Image: Speed-Way Shelters)
It is built with strong, durable, and long lasting materials all at an affordable price. Available in three sizes (the Standard / Sport Model, the Specialized Touring Model, and the all new Deluxe Trike Model), the Speed-Way Shelters fit virtually all Standard, Sport and Touring motorcycles including trikes, can-am's, side cars or even two motorcycles at once.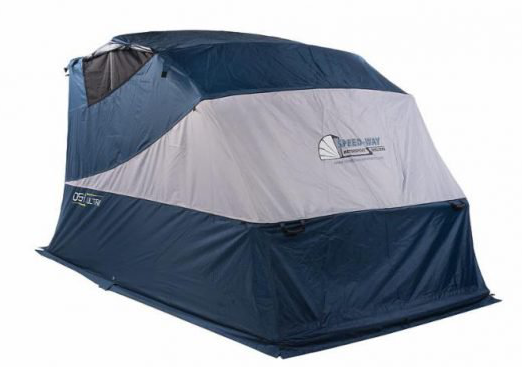 The 'Deluxe' Shelter for Trikes, Can Am Spyders or multiple vehicles.
(Image: Speed-Way Shelters)
Made in weatherproof material, the durable polyester fabric is coated in 2,000mm of Polyurethane with UV protection and fully-taped seams for waterproofing. To ensure the shelter stays dry and not just the motorcycle, it has a new curved top design that allows fast water runoff. It also provides full coverage protection from the sun, snow, or dust.
Also included is a 48 lamp LED Bright Light with three operating functions that are helpful for night parking or general night access while the built-in locking hardware allows the Speed-Way Shelter to be locked in the lowered position.
There are even anchor bolts to ensure it stays secured to the cement or asphalt as well as a heavy duty case for storage or transport. Heavy duty plate rubber floors are also available, but optional.
The Standard/Sport Model All Inclusive Kit is priced at $489.95 while the same model but with a Double Duty Kit is available for $309.95. With a floor kit, the Standard/Sport Model costs $389.95 and without any of the aforementioned kits, it stands at $279.95.
For the prices of all the other models, shop here. All items are available for FREE SHIPPING.
Rd 1, 09 Jan 2019
COE Bidding of Motorcycles