Mutt Motorcycles Singapore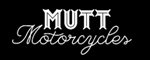 Operating Hours
Tue & Wed (11am To 6pm) Thurs - (11am To 8pm) Fri - (11am To 6pm) Sat - (12am To 5pm)
We provide people with the easy access to beautiful, high-quality motorbikes and products.
We are passionate believers that the journey should be a critical part of the experience
rather than a means of getting to the destination.
Take a different path, don't follow the crowd - stand out for all the right reasons.
Rd 2, 22 Sep 2021
COE Bidding of Motorcycles